"We weren't sure how to go about organising our wedding ceremony, so having Jo lead the process was an absolute gift. She was so prepared and thoughtful, as well as being so accommodating with navigating a ceremony involving our 1 year old and several young nieces and nephews! She managed to create such a relaxed atmosphere, and did an amazing job of capturing our story and our life together."
PIC | HANNAH DINGLI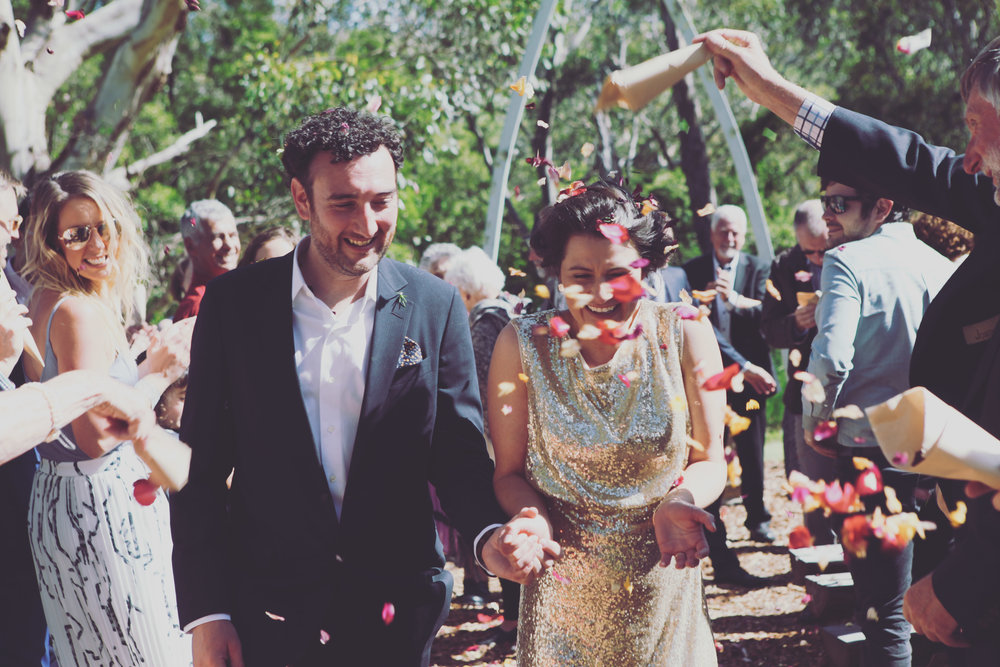 "We weren't keen on having a ceremony at all until we enlisted Jo on our team, and she convinced us immediately that we could have something that reflected us. We couldn't be more grateful as our ceremony was the most beautiful thing we've ever been a part of. Jo's words and authentic presence helped us to express our love for each other and our thanks to our families and guests. We had audience participation, laughs, high fives and tears. And we had guests say it was the most genuine ceremony they had ever witnessed."
PIC | HANNAH DINGLI
"I couldn't imagine anyone in the world better suited to being a wedding celebrant- to share and celebrate our un-mushy version of love! Having you marry us made the ceremony so much more special and you really represented us as a couple perfectly"
PIC | MEGHAN COOK, LOVE PHOTOS
"We didn't have a clue about wedding ceremonies; we only knew that we didn't want it to be formal or traditional and we wanted it to reflect us as a couple. Jo is warm, approachable, and has a great sense of humour. She made organising the ceremony a fun experience. She "got" us straight away which made it so easy. Jo put together a ceremony that far exceeded our expectations and one that we are immensely proud of"
"We knew we wanted a warm, intimate and personal wedding ceremony, and that is why we chose Jo. Her bubbly personality and genuine joy of LOVE makes her the perfect celebrant. Her suggestions for the ceremony were very much in line with what we wanted, and she gave us total freedom to make any changes to the script, even at the very last minute... the whole experience felt so effortless. On the big day, she was a calm force who knew exactly what to do. We could not have been happier with our wedding ceremony."
PIC | LUMA WEDDING PHOTOGRAPHY